Audioguide "Overlaying history"
The 15th project seminar of the Elite Graduate Program for East European Studies at LMU Munich and University of Regensburg produced in the last academic year two audio tours for the memorial site BADEHAUS in Waldram (near Wolfratshausen). Supported by the Elite Network of Bavaria in the context of the ENBcomeUnity-Initiative the results were presented during to events in October and November 2019.
Multiple layers of history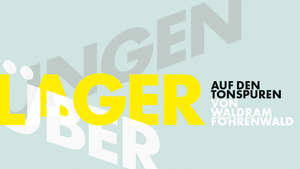 Waldram (former Föhrenwald), a city district of Wolfratshausen features a changeful history that can be clearly seen in the streets' names that were replaced time and again: Adolf-Hitler-Platz, Roosevelt Square, Seminarplatz are the three names of the central square in a place that witnessed three generations of camp life. During the Nazi regime foreign civil and forced laborers as well as mobilized Germans worked in the nearby ammunition factory. After the war, Jewish displaced persons found a temporary home in the hamlet. 1956 expelled Germans coming from Eastern Europe started to live in Waldram. Especially the transitions between those different layers of camp life allowed the students to gain valuable insights into the regional contemporary history and supplied them with various starting points for their research.
The work process of the future researchers was guided by Prof. Dr. Martin Schulze Wessel and Dr. K. Erik Franzen. Apart from their support, the memorial site BADEHAUS played an important role as key partner for the production of the audio guide that will complement the permanent exhibition on the spot.
One year after the start of the project, the students presented their results in October 2019 to the general public and drew the connection to the bigger context of "Museums and Digitalization" within a panel discussion at the cultural center Köşk in Munich. The second presentation of the audio guide took place at the memorial site BADEHAUS and allowed the visitors to experience the guide together with the exhibition.
Mastering challenges research- and organizationwise
Apart from detailed research and the writing of scientific texts the students also had to deal with some organizational challenges. Speakers had to be casted, the recordings had to be discussed with the audio engineer and last but not least rights for sounds and music had to be purchased. The task of writing well-grounded texts that could be understood while only hearing them once proved to be particularly complicated and necessitated several circles of revision. Finally, all scientific and organizational tasks could be mastered successfully. The adult audio guide provides detailed understanding of the multilayered history of the place with extensive background knowledge and the youth version guides the visitor with three fictious pupils through the exhibition, who playfully explain the historical development to the listener. Both guides will be available on the spot from early 2020.